How many social media platforms should a business use?
THE FOLLOWING IS AN ADAPTED TRANSCRIPT OF THE PRECEDING VIDEO ON YOUTUBE – SECRETS TO INSTAGRAM FOLLOWER GROWTH

A few months back, I was working with a brand in their strategy for an exhibition they are running. Part of our marketing plan was to promote the exhibitors who would be at the event and mention them using their social media handles in the content we put out on social media.
So, we use Hootsuite to schedule our content. We have to plan because we have a lot of content going out all the time during the day. Putting out a lot of content has helped build massive brand awareness for our brands. Having a constant stream of content all day on a variety of platforms has been pretty useful. It works.
If you use Hootsuite, you'll know that a few months or more back it stopped recognising '@ mentions' for Facebook and Instagram. So now you can only at mention for Twitter. From a brand viewpoint, it is inefficient. Although, from my experience "@ mentioning' people on FB is not a huge loss. With the popularity of Instagram, it's a must. You want people to know you are mentioning them, and you need to be able to schedule content with those mentions.
However, what was surprising was that a number of the brands who would be exhibiting preferred to be on one or two social media platforms. And, of those that were only on one platform, for the majority, Twitter was not their choice. It was quite common for these organisations to go on Facebook and Instagram.
Focus on Reusing Content
I need to schedule content. I manage too many brands not to be scheduling.
At the moment it's cost-effective to use Hootsuite for our business. So two things are happening. One – our business runs into challenges mentioning your brand if you are not on Twitter. And, if you are a brand not utilising as many social media platforms as possible; and I recommend Pinterest, Twitter, LinkedIn, Instagram, and Facebook as a minimum, you are limiting your audience reach.
Some of your potential customers only use Twitter. If you are only using Instagram, you significantly reduce the flexibility of the stories you tell and the range of your audience.
Create one long-form piece of content. That could be a blog or a video. Your long-form content should be what you are going to put on your website. Your website content should be your main priority because that is your real estate and you should be focusing on attracting audiences to your site so you can convert them into customers.
You then take that long form of content and transform it into smaller pieces of content for the different styles of content required for the different platforms. When you do that you will always have content, also, you will be building up your brand identity as well as your brand platform, which is your website.
So have long-form content on your website and create shorter form content for social media. You will have a better Content Marketing Strategy for business development operating in this way. Furthermore, you'll be keeping your message streamlined. I see so many brands sharing stories that don't reinforce the overall brand story. They share unrelated stories, and water their message down.
Content on Your Website is Important
I do things slightly differently. Firstly, I create a YouTube video. Then, I turn it into a blog for my website. Afterwards, I go back to the blog on the website to extract a quote for a tweet or generate an idea for a live video or a podcast. Plus with a blog, you can share that to your social media platforms generating traffic to your site. Make traffic generation a major goal for your brand's business growth.
When you're not focusing on creating content for your site, your audiences belong to whichever platform you mainly use. For example, they remain Facebook or LinkedIn customers. They engage with the content on these social media platforms and see the ads they display. Rather than being on your website, learning about your brand, becoming a part of your brand community, and buying your products.
Always have a way to drive, audiences back to your online real estate. And, to answer the questions of how many social media platforms should a business use? All the main ones and more.

Current Events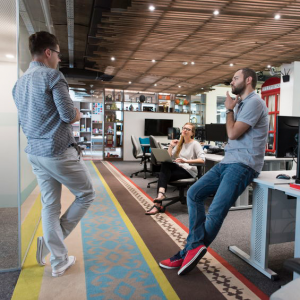 Advanced Storytelling for Content Creators
In stock
Develop Advanced Storytelling techniques with leading Digital Content Marketing expert, Bess Obarotimi. Using extensive research and years of industry experience, Bess has vital insight into what makes iconic brands like Levi jeans, Apple, Coke and Disney inspire fans and sell highly sought after products. In this seminar, she will be sharing insider knowledge to craft powerful stories through the content you share and distribute on social media that will help you become a brand with influence.
Discover the dynamic techniques that will enable your business to be an undisputed leader amongst audiences, build brand loyalty and easily influence profitable customer action.
As an active brand storytelling evangelist, Bess facilitates workshops and mentoring in London and Kent that are helping leading brands stay ahead in the game.
WHAT YOU'LL DISCOVER

Advanced storytelling incorporating masterful ideas that will strengthen your brand presence.
How to influence your customer's behaviour with storytelling techniques used by premium brands
How to position your company as the  preferred brand by customers in your market niche
Techniques for strengthening customer loyalty
The use of psychology in creating content for online audiences
If you would like an invoice for this seminar, please email bess@synateldesigns.com
Venue: WEBINAR
£

79.00
Storytelling Strategy for a Product Launch
Not just another content marketing strategy course. Examine how to create a buzz around your new product launch, uncover the psychology of your customers and create a  results-driven customer sales journey over a defined period.
Structure and enhance your content marketing campaigns each time you have a new release to the marketplace for increased customer attention and sales conversions.
Uncover more than just goal and objective setting. Discover how to implement a revolutionary new way to attract customers and influence profitable action.
Venue: WEBINAR or Pill Box 115 Coventry Road, Bethnal Green, London, E2 6GG
If you need an invoice for this event, please email bess@synateldesigns.com.
£

79.00
WordPress Training for Beginners
Unlock your dreams and build your website in a day. We want you to win in developing your online business or blog and that's why in this class, not only do we show you how to create a modern and dynamic WordPress site, we are going to be sharing years of expertise and insight to creating a website that is fast, secure and outperforms the competition.
In this easy to follow, hands-on one day class in addition to developing the skills to install, design and manage a WordPress site we're going to give you insider strategies to creating content that grabs customer attention and builds you a profitable business.  Get your website up and running with our WordPress expert, Bess Obarotimi.
What to expect:

How to easily install Wordpress on your laptop in 5 mins
How to choose a stylish design that best suits you and your customer's needs
Basic insider strategies for creating compelling content
Basic SEO strategies to get your content ranking higher in search engines
Introduction to the must-have WordPress plugins that will boost your website's performance
Techniques THAT WORK to promote your content on social media SUCCESSFULLY
IMPORTANT: BRING YOUR LAPTOP
Venue: WEBINAR or Pill Box 115 Coventry Road, Bethnal Green, London, E2 6GG
If you need an invoice for this event, please email bess@synateldesigns.com.
£

199.00