Like it or not I'm going to explain a few things before I give you my answer to the title of this blog. Skip to here if you can't wait.

Now, it's mostly a discussion I have with individuals who are just starting out and they are thinking about building a brand, selling a product online or who have hopes of building a business. Perhaps it's because they haven't managed to build a team yet but I always feel it necessary to say, "Social media is hard work!"

I feel to get the best out of the work I do with my clients; they mustn't be under any illusion as to how much effort they must be prepared to put in. The truth is, and you'll be amazed at how many people I meet that don't always grasp how important social media marketing is. They don't see it as a crucial part of the business function.

People come up with an idea, realise they can use social media as a marketing tool but don't give it enough attention. They don't respect the tool for what it is. Perhaps they haven't learnt how to. Maybe they recognise it's significance but are soon overwhelmed by the sheer effort it takes.

They don't produce valuable content; they don't employ a strategy, they don't strategically produce beneficial content consistently. They waste time treating social media as a playground. They get bored, frustrated easily, give up quickly and have unrealistic expectations.

Many people make amassing likes and comments, the focus. They live for creating that one piece of content that will get them all the likes, and when that doesn't happen, they get terribly disappointed and focus way too much on what went wrong and not on doing things right.

People assume they know what is involved in social media. They think all they need, is to post a few pretty selfies and the world will come running. They think if they have 200k+ followers their problems will be solved; they'll have hit the jackpot. That's what drives so many individuals on social media towards buying fans, buying likes and setting up fake profiles. They have no plan and no idea how to create a plan.

Unfortunately many have very little knowledge about writing content that converts. They write and hope for results but don't quite get the right ones. It is an art form.

They get caught up in the hype that is social media and lose focus. They don't use their time efficiently. They overthink how often and when they should post. At times they don't post at all.

A lot of people are failing at making social media marketing a useful tool for their business because have they not taken a strategic approach to creating content to drive profitable customer action.
Why business fail at social media
One thing I tell my clients is this, "Social media audiences equate how much consistent, valuable content you post with your level of authority."

The brands that produce the most relevant content that is in your face, making the most noise, are going to be perceived as the influencers, by and large. This is a pretty rudimentary statement. There are lots of nuances to this in practice, but for the most part, you'll find it rings pretty much accurately.
Current Events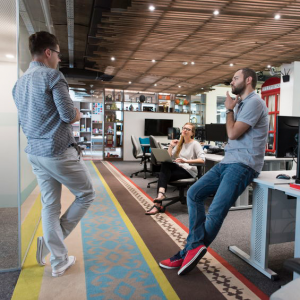 Become a Brand With Influence – Advanced Storytelling Strategies
How would you like to become a brand with influence and build a loyal online community using advanced storytelling strategies?

Leading Digital Content Marketing expert, Bess Obarotimi will be sharing years of research and years of industry experience into what stories you can use to inspire fans and sell highly sought after products.

Discover how to craft compelling stories through the content you share and distribute on social media. Whether it's through podcasts, YouTube videos, Instagram photography or even your business talks and seminars, find out the advanced stories you need to tell to become a brand with influence.

Discover the dynamic techniques that will enable your business to be an undisputed leader amongst audiences, build brand loyalty and easily influence profitable customer action.

As an active brand storytelling evangelist, Bess facilitates workshops and mentoring in London and Kent that are helping leading brands stay ahead in the game.

WHAT YOU'LL DISCOVER

Advanced storytelling incorporating masterful ideas that will strengthen your brand presence.
How to influence your customer's behaviour with storytelling techniques used by premium brands
How to position your company as the preferred brand by customers in your market niche
Techniques for strengthening customer loyalty
The use of psychology in creating content for online audiences
If you would like an invoice for this seminar, please email bess@synateldesigns.com

Venue: WEBINAR

£379.00
How to Get 10000 Fans – Content Strategy
Discover amazingly simple techniques and 'How to Get 10000 Fans' that will grow your brand.

Leading Digital Content Marketing expert, Bess Obarotimi will be sharing a simplified approach to creating content that she has successfully used to grow and manage global premium brands on all major social media platforms.

Strategies for all types of content – video scripts, blogs, status updates, tweets and more. Suitable for all social networks to strengthen your digital presence. The content creation techniques revealed are simple and powerful. 

To attend this workshop, you do not need social media experience. You could be just starting your business, want to make content creation easier and keen to take your brand to the next level.

If you are like many businesses, you are unsure of what type of content your fans want. You may be struggling to create enough content that is captivating and sells your products.

The 'How to Get 10000 Fans' workshop will show you simple and proven techniques. If you are looking for easy ways to create a lot of content, this workshop will get you results.
"What I love most is the in-depth knowledge and simple strategies given for effective content creation. It has helped me to manage my social media platforms easier. I feel like I know what I am doing." Chris Sparrow, Writer.
For a small investment, you could be on track to get 10000 fans.

Don't wait. Start building your social media presence today. Ticket Sales End Soon. Book Now!

£29.00
Storytelling Strategy for a Product Launch
Not just another content marketing strategy course. Examine how to create a buzz around your new product launch, uncover the psychology of your customers and create a  results-driven customer sales journey over a defined period.

Structure and enhance your content marketing campaigns each time you have a new release to the marketplace for increased customer attention and sales conversions.

Uncover more than just goal and objective setting. Discover how to implement a revolutionary new way to attract customers and influence profitable action.

Venue: WEBINAR or Pill Box 115 Coventry Road, Bethnal Green, London, E2 6GG

If you need an invoice for this event, please email bess@synateldesigns.com.

£149.00

Ok so now to the question. How often should you post on social media?

I must state before you consider making lots of content for the sakes of meeting my suggestions. Let the content you create, be of value. Your audience should wake in the morning, log into their preferred social media platform and enjoying seeing it. Create the type of content that audiences would miss if you did not post for a week. But don't go offline for a week. Don't do that.

Ok, at the very least, post three times a day. This is the advice of social media influencer & entrepreneur, Gary Vaynerchuk. My personal preference is up to seven.

I dare say with all the 'live' stories and tweets and engagement, Gary Vaynerchuk exceeds his advice. But Gary Vee has staff – a dedicated team to writing, filming, curating, creating and sharing content for him. That's why I believe his suggestion of three is quite apt for the average person with no team and perhaps trying to fit social media marketing in with a job and home life, family and so on.

Three is adequate. It's enough to stand out, and not too much to handle regarding the time required.

When you are starting, you can create simple but impressive content that helps your audience. It doesn't have to get fancy, but it must be useful. You can commit to creating long pieces of content such as videos and blogs to at least once weekly.

This will keep you on the radar and sufficiently satisfy the audience's content needs. And remember it's not what you post; it's how you post. So make each piece beneficial, so audiences appreciate you.
FREE CONTENT SCHEDULE OUTLINE FOR A PRODUCT LAUNCHCreate targeted content for any major product launch to get you results,

This is a great product launch content outline to help you plan your content for 6 weeks.

Download Now

Take a look at the social media profiles you admire and how often they post. Who in your network do you admire? Some of the more established home name brands like Harrods, who may only post once a month (slight exaggeration) may not be the brands to look at. Look at the influencers that are smashing it on social media. Do you notice how often they are posting? Do you also see they create engaging content that their fans love?

I'd like to invite you to sign up to one of the content marketing workshops to take your business to the next level. Start creating great content that builds communities of loyal fans and turns them into customers.

I'd love to work with you to help you start doing content marketing the right way and building a business and brand that  makes a difference. Don't delay. Let's do this! Click the link below