THE FOLLOWING IS AN ADAPTED TRANSCRIPT OF THE PRECEDING VIDEO
The Difference Between Brands and Companies
A lot of the content I share I mentions helping you to become a powerful brand. I want to be clear that there is a distinct difference between being a brand and being a business. Although my work tends to focus on working with brands both at the corporate and individual level, not every company wants or sees being a brand as essential.  That's perfectly acceptable if it doesn't into fit their business model and turnover is satisfactory.
Brands tend to have a distinct personality and are highly favoured by their fans. In contrast, companies are more focused on producing a product at the best quality and service possible. There will be very little that distinguishes them from other companies providing similar products. Their customers may easily switch between companies on factors such as price, customer service or location. There's little loyalty from them with the company. Fans of brands tend not to switch so easily.
How Influencers do it
Despite not all companies wanting to be an iconic brand, I've still found it possible to work with those companies to help them build their digital presence. But, I believe in the social media arena building a brand presence is undoubtedly an effective way to stand out quicker and attract the right type of customers who will end up remaining loyal to the business.
I'd like you to take a look at Influencers. The concept of personal branding, on the whole, has undoubtedly become more important because of the way Influencers have found success through social media. Influencers' success has primarily come because they have focused on building a personal brand and growing tribe of very committed followers with similar likes and values. Business has a lot to learn from this. Especially the new sort of niche business we see evolving.
Let me explain further why branding is important. Everyone is on social media. You get general social users whose agenda is purely social, and your potential customers are on social media, big brands, your competitors and your mum. And, they're sending out a lot of content. You'll find consumers aren't necessarily coming on to social media to buy from you, but they are using social media to follow niche brands that share content they enjoy engaging with. Therefore what we're seeing is consumers will buy from those brands and be brand evangelists within their networks more so than they will with the more established businesses who are unable to connect on that social level.
What Worked on the Local High Street
What I also feel strongly is your local smaller businesses has now come online. So if you think of it in this way; "in the old days" local business were in the community on the local high street. In the past customers were frequently shopping with them before your Amazon and ASOS and even the big supermarkets.
Much of the time there were a good relationship and shared culture between the customer and high street shop owners. Now that there more niche businesses online we can use this same business model for growth and profitability. Build your own local social media community. Do this and two things happen.
Firstly, by focusing on building a community you'll get noticed easier, and secondly, you can even corner a section of the market that more established businesses aren't swift enough to tap into or they are not focused on. And, by having a robust online community, growth is much more comfortable and sustainable.Now, if you want to build a community, you must focus on doing these five things through your content.
How to Build an Iconic Brand
Now, if you want to build a community, you must focus on doing these five things through your content.
1. Understand how to use a brand story framework. A story brand framework helps you to communicate with your customers about how there life is improved with your brand. And more importantly, stories are remembered. So a clear story framework makes it easier for your brand to be at the top of consumers minds and for you to create content to build relationships. Stories help your customer get to know you better.
2. Focus on growing a tribe
Likes and comments release dopamine. We all know this. We get happy when we read the stats, and we've got more "likes". But actually, you want to focus on building a tribe of people that want to follow you consistently. You can create a tribe simply by inspiring a group of people with similar values to your brand. Every interaction between people and your brand should make them unique. Focus on making people feel good, and they'll want to stick around for the long term.
3.Understand your customer's pain point
One of the easiest ways for you to connect with consumers is to understand what they need to succeed or in other words understand their pain point.
What I've discovered working with companies is that finding and understanding pain points is probably one of the hardest things to do. To recognise the real problems customers' face and communicate that understanding is not as obvious as it seems. A lot of the time consumers aren't telling you what they want. So it's up to you to see life from your customers point of view to understand. Use data, focus groups and probably your sixth sense (I'm not kidding) to discover what in customers lives they need fixing. Once you've solved the mystery you have to communicate this fix in words they would use.
4.Inspire your customer
Inspiration is key to your customer wanting to care about your brand. Find ways to inspires your brand. And I'll strongly recommend that you do it within the content of your brand. Don't use the same old tired quotes. Find something unique that will get your brand noticed. Brainstorm this stuff in your teams
5. You have to position yourself as an industry leader. Post good, original quality content. Educate and transform lives. Share original thought — challenge people to do things differently. And don't hold back. Don't fade into the background for even a second. Hold back, and you pull yourself back from standing out as a trailblazer.
So have a strategy and when you're creating it remember these points that I've given you. Followed closely they will help you become a first-rate brand. I promise.
Current Training
Get Ahead & Start Building Your Dream. Discover Powerful Marketing Strategies to Build Your Brand or Start Your Business with website development Using WordPress. Enrol Today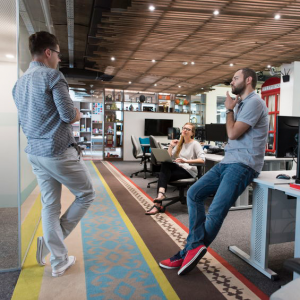 Advanced Storytelling for Content Creators
In stock
Develop Advanced Storytelling techniques with leading Digital Content Marketing expert, Bess Obarotimi. Using extensive research and years of industry experience, Bess has vital insight into what makes iconic brands like Levi jeans, Apple, Coke and Disney inspire fans and sell highly sought after products. In this seminar, she will be sharing insider knowledge to craft powerful stories through the content you share and distribute on social media that will help you become a brand with influence.
Discover the dynamic techniques that will enable your business to be an undisputed leader amongst audiences, build brand loyalty and easily influence profitable customer action.
As an active brand storytelling evangelist, Bess facilitates workshops and mentoring in London and Kent that are helping leading brands stay ahead in the game.
WHAT YOU'LL DISCOVER

Advanced storytelling incorporating masterful ideas that will strengthen your brand presence.
How to influence your customer's behaviour with storytelling techniques used by premium brands
How to position your company as the  preferred brand by customers in your market niche
Techniques for strengthening customer loyalty
The use of psychology in creating content for online audiences
If you would like an invoice for this seminar, please email bess@synateldesigns.com
Venue: WEBINAR
£

79.00
Storytelling Strategy for a Product Launch
Not just another content marketing strategy course. Examine how to create a buzz around your new product launch, uncover the psychology of your customers and create a  results-driven customer sales journey over a defined period.
Structure and enhance your content marketing campaigns each time you have a new release to the marketplace for increased customer attention and sales conversions.
Uncover more than just goal and objective setting. Discover how to implement a revolutionary new way to attract customers and influence profitable action.
Venue: WEBINAR or Pill Box 115 Coventry Road, Bethnal Green, London, E2 6GG
If you need an invoice for this event, please email bess@synateldesigns.com.
£

79.00
WordPress Training for Beginners
Unlock your dreams and build your website in a day. We want you to win in developing your online business or blog and that's why in this class, not only do we show you how to create a modern and dynamic WordPress site, we are going to be sharing years of expertise and insight to creating a website that is fast, secure and outperforms the competition.
In this easy to follow, hands-on one day class in addition to developing the skills to install, design and manage a WordPress site we're going to give you insider strategies to creating content that grabs customer attention and builds you a profitable business.  Get your website up and running with our WordPress expert, Bess Obarotimi.
What to expect:

How to easily install Wordpress on your laptop in 5 mins
How to choose a stylish design that best suits you and your customer's needs
Basic insider strategies for creating compelling content
Basic SEO strategies to get your content ranking higher in search engines
Introduction to the must-have WordPress plugins that will boost your website's performance
Techniques THAT WORK to promote your content on social media SUCCESSFULLY
IMPORTANT: BRING YOUR LAPTOP
Venue: WEBINAR or Pill Box 115 Coventry Road, Bethnal Green, London, E2 6GG
If you need an invoice for this event, please email bess@synateldesigns.com.
£

199.00