THE FOLLOWING IS AN ADAPTED TRANSCRIPT OF THE PRECEDING VIDEO SOCIAL MEDIA FOR INTROVERTS
I knew from early on that I wanted to be a programmer. I was about 14 years old and would watch my younger brother obsessively playing the Nintendo. Observing him, made me realise I didn't just want to play the games I wanted to design them. I shared my dream with an uncle, also a programmer. Naturally, he encouraged me.
As I came towards the end of my university degree, it had become clear what had drawn me to this vocation. Apart from a realisation that numbers, mathematics, algebra, coding were all like English to me, I liked solitude.
I remember the day I handed in my dissertation. There was obvious relief as well as excitement. I could now get a job where I would work sitting by myself in a dark room programming. My first graduate job looked almost like that. I wasn't by myself, but I did sit in a dark basement room with several other entry to senior level programmers, and no one talked. We coded, silently all day. It practically felt like solitude — Heaven to me.
But of course, things change. A few jobs later, a wedding and a baby, my priorities changed. I wanted to be as close to my new son as possible and enjoy a better work-life balance. I left the managerial job I had at the time, with admittedly no solid plan to pursue this new dream. After not being able to find a more flexible job, I became a freelance web designer. Not realising you could purchase ready-made WordPress templates, I began my career by hand coding one from scratch.
Do What You Fear Most
After much deliberation and dread, I opened a Facebook page so that I could market myself and get a few clients. I'm an extroverted introvert, I like socialising, I'm not shy, but I have no problem being on my own in the middle of a party.
Being on Social media, well Facebook to be exact, where you have to be social all the time wasn't appealing to me. Unfortunately, if I wanted to spread the word about my work, going on Facebook was going to be essential.
How to do Social Media for Introverts
So, back then, which was about ten years ago, part of my dread of being on social media came from the introverted side of me. However, like many introverts who are deep thinkers, sitting behind a computer screen, I was able to pour on my thoughts into a Facebook status without feeling like I was boring anyone, worked for me. Now this was ten years ago and surprisingly, I was one of a very few who would get a tonne of comments and likes. Soon my web design clients began asking me for social media advice. Most of them asked me to manage their pages.
In a nutshell, I accidentally became a Content Marketing Strategist. It hasn't been easy for me. I still wonder whether I am suited for the job. Programming and marketing are two very different fields. But, over the years managing content for brands, doing my own content, I have realised my own gifting, like coming out here on YouTube. And I can do it.
I suppose what I'm saying is, if me, a former selfie-loathing recluse can be a content creator, anyone can.
BUILD YOUR OWN WEBSITE. NO EXPERIENCE NECESSARY.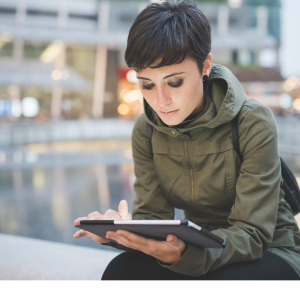 WordPress Training for Beginners
Unlock your dreams and build your website in a day. We want you to win in developing your online business or blog and that's why in this class, not only do we show you how to create a modern and dynamic WordPress site, we are going to be sharing years of expertise and insight to creating a website that is fast, secure and outperforms the competition.
In this easy to follow, hands-on one day class in addition to developing the skills to install, design and manage a WordPress site we're going to give you insider strategies to creating content that grabs customer attention and builds you a profitable business.  Get your website up and running with our WordPress expert, Bess Obarotimi.
What to expect:

How to easily install Wordpress on your laptop in 5 mins
How to choose a stylish design that best suits you and your customer's needs
Basic insider strategies for creating compelling content
Basic SEO strategies to get your content ranking higher in search engines
Introduction to the must-have WordPress plugins that will boost your website's performance
Techniques THAT WORK to promote your content on social media SUCCESSFULLY
IMPORTANT: BRING YOUR LAPTOP
Venue: WEBINAR or Pill Box 115 Coventry Road, Bethnal Green, London, E2 6GG
If you need an invoice for this event, please email bess@synateldesigns.com.
£

249.00